Warning
: Use of undefined constant user_level - assumed 'user_level' (this will throw an Error in a future version of PHP) in
/var/www/garngrammatik.dk/public_html/wp-content/plugins/ultimate-google-analytics/ultimate_ga.php
on line
524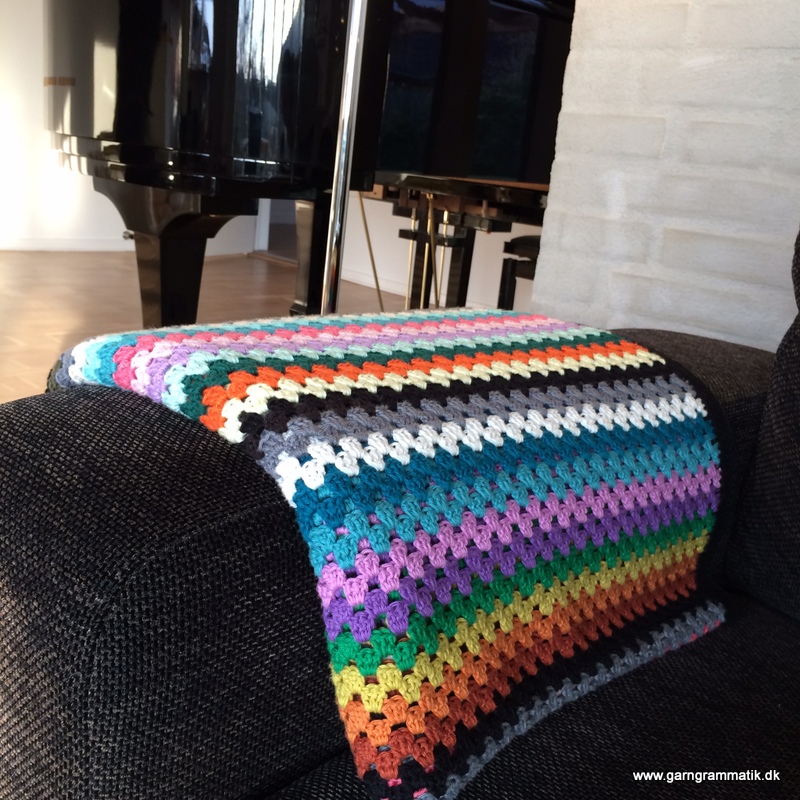 Har du nogensinde prøvet at blive optændt af den hellige hækle – eller strikkeild? Så indstillet på, at NU skal det bare være. Din tid som mesteren over dem alle er kommet. Det ser jo så let ud… Du skal bare liiiige starte med noget nemt. Hvad med fx et fint halstørklæde til en bamse du kender?
Nu, måske måneder eller år efter, sidder Teddy hensygnet med et fnulret, ensfarvet stykke garn viklet om halsen. Eller måske er det bare mig, der har prøvet det…..?
Næste gang du bliver optændt af samme ild, så gør dig selv den tjeneste at glemme "projekt bamse-halstørklæde" og hækl dig i stedet et GRANNY STRIPES TÆPPE. Det er utroligt nemt, så alle kan være med. Og så er der tilmed chance for, at der er flere end blot Teddy, der får glæde af det.
HVAD SKAL JEG KUNNE
Luftmaske (lm)
Stangmaske (stm)
Fastmaske (fm)
HVAD SKAL JEG BRUGE
Hæklenål, str. 3 – 3,5
Bomulds- eller merinouldgarn. Hvilket som helst i alle de farver du har lyst til at hækle ind i dit tæppe. Jeg har selv hæklet tæpperne i bomuld.
FORSLAG TIL MATERIALER
Clover Amour hæklenål str. 3.0 eller Clover Amour hæklenål str. 3.5
DROPS Paris bomuldsgarn, DROPS Baby Merino eller DROPS Merino Extra Fine
HVOR MANGE MASKER SKAL JEG SLÅ OP
Tusindfryd slår 261 masker op til 150 cm. tæppe. Det passede også meget godt her. Jeg har desuden lavet to babytæpper. Det første slog jeg 174 masker op til og det blev ca. 115 cm bredt. Det næste lavede jeg lidt mindre, nemlig 126 masker til 90 cm. Det hele kommer lidt an på din hæklefasthed, men den lærer du hurtigt at kende, så prøv dig lidt frem. Vigtigst er det, at antallet af dine masker kan deles med 3, så det passer med dine vifter

Mit bedste råd til dig er: start med at slå masker op løst, eller i dobbelt garn. Når tæppet har den bredde du synes er passende, så stopper du og tæller. ntallet af masker skal kunne deles med 3.
HVOR MEGET GARN SKAL JEG BRUGE
Det er meget forskelligt, fordi det igen kommer an på din hæklefasthed. Jeg har fået spørgsmålet mange gange, og jeg ville ønske, at jeg havde skrevet det ned dengang. Men, jeg brugte ca. (ca.!) 10 nøgler til det mindste babytæppe, ca. 12 nøgler til det lidt større babytæppe, og ca. 25 nøgler til det helt store. Det var bomuldsgarn 50 gram med en løbelængde på 160 meter.
Hvis du kaster dig ud i at hækle tæpperne må du meget gerne give en tilbagemelding på hvor meget garn du har brugt. Så kan vi lave en lille "vidensbase"

OPSKRIFT
Inspireret af en god kollega, som flittigt havde postet billeder af sine Granny Stripes på Instagram, tænkte jeg, at Granny'en måtte blive mit første hækleprojekt… ever! Jeg Googlede derfor et utal af opskrifter. Valget faldt til sidst på super dygtige TUSINDFRYDS DIY til at hækle et Granny Stripes.
HVOR SKAL JEG HOLDE TUNGEN LIGE I MUNDEN?
Tusindfryd har lavet en særskilt guide til starten af tæppet, da den lige kan være det vanskeligste. Der linkes til guiden i selve opskriften, men ellers kan du også finde start-guiden HER.
HUSK
Når Tusindfryd siger, at du skal slå masker LØST op, så menes der virkelig løst. Jeg måtte trævle op et par gange fordi min kant blev alt for stram. Hun opfordrer desuden til, at der slås masker op i dobbelt garn. I starten sad jeg og heeeeeev garn ud af mit nøgle, for at få nok til at lægge dobbelt. Kun for at konstatere, at da jeg nåede til maske 240 ud af 261, så havde jeg ikke fået viklet nok garn ud – dohh! Den klogere hækler vil nok gøre det, at hun tager TO nøgler med samme farve garn og bruger tråden fra dem begge på samme tid… Eller, som en venlig sjæl tippede mig om i en hæklegruppe på Facebook; tag begge garnender fra dit nøgle, dvs. både indefra og udefra, og hækl med begge på én gang, fra samme nøgle. Smart, ikk'!?

NÆSTE SKRIDT
Nu er du færdig med dit Granny Stripes tæppe, og jeg gætter på, at du har fået så meget blod på tanden, at du også vil vove at kaste dig ud i at smykke dit tæppe med en fin kant og måske evt. lidt pynt? Jeg har lavet guides til forskelligt pynt og kanter. Så prøv at tage et kig HER.
Der er copyright på dette design. Læs mere om Garn Grammatiks Copyright.
Siden indeholder affiliatelinks. Læs mere om Garn Grammatiks Reklamepolitik.
Måske vil du også kunne lide disse opskrifter: