Warning
: Use of undefined constant user_level - assumed 'user_level' (this will throw an Error in a future version of PHP) in
/var/www/garngrammatik.dk/public_html/wp-content/plugins/ultimate-google-analytics/ultimate_ga.php
on line
524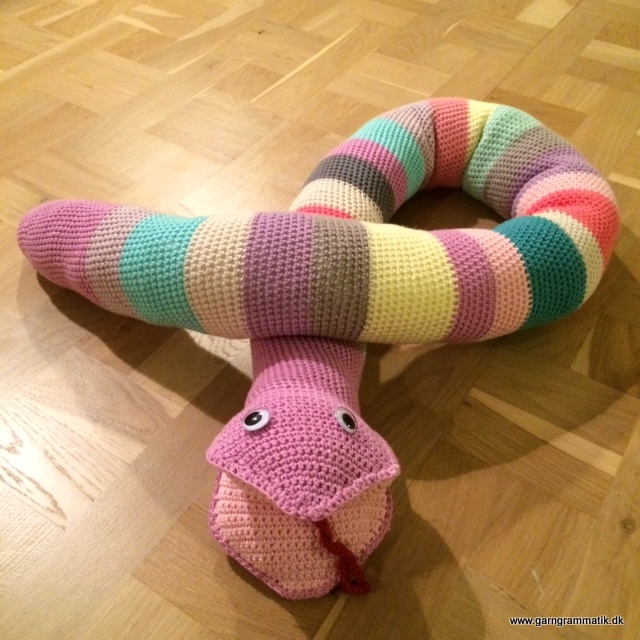 Dette er den sødeste, blødeste og lidt faaaaarlige slange til baby – eller småbarnssengen!

HVAD SKAL JEG BRUGE
Hæklenål, str. 3
Bomuldsgarn, hvilket som helst i blandede, dejlige farver.
Evt. plastic øjne (Stof & Stil / Stof2000)
Fyld til slangen.
HVAD SKAL JEG KUNNE
Luftmaske (lm)
Fastmaske (fm)
Kædemaske (km)
Indtagning
Udtagning
OPSKRIFTEN
Opskriften på slangen har jeg fundet på bloggen retvrang.dk HER.
Pernille fra retvrang har lavet et superfint stykke arbejde med at beskrive opskriften step-by-step. Er du helt ny udi hækleriet, vil jeg dog hjælpe dig her med lidt små tips og billeder til at komme succesfuldt igennem opskriften.
Kroppen
Indtil 5. omgang på slangen mener jeg, at opskriften er lige ud af landevejen (hvis ikke, så råb endelig op for hjælp!).
Tag 6 masker ud jævnt fordelt på omgangen ved at hækle 2 fm. i samme maske 6 gange.
Du har måske allerede luret den, men hvis ikke, betyder det, at du i dine 12 masker skal tage masker ud i hver anden maske.
Gentag 3, 4 og 5. omgang til der er 50 masker på omgangen. Hækl herefter lige op. Husk at skifte farve, når du synes.
Her har du mulighed for selv at styre om du vil have en lille, tyk hale, eller en længere og slankere én af slagsen. Dette styrer du ved antallet af udtagninger du laver undervejs. Du behøver fx ikke tage masker ud i hver runde du hækler.
Vedr. farveskift, så se evt. et lille tip HER. Prøv også at tilstræb, at du skifter farve samme sted på slangen hver gang. På den måde kan alle farveovergange skjules i bunden af slangen, når den er færdig.
Hovedet
Når arbejdet måler 100 cm eller den længde du ønsker slangens krop deles arbejdet til hovedet. Hovedet hækles i samme farve. Hækl 25 fm frem og tilbage.
Når du har 50 masker på slangen, så prøv her at tilstræbe at planlægge slangens gab, så dine farveskift bliver skjult i bunden af slangen.
1. Tæl 12 masker fra dit farveskift (se billede)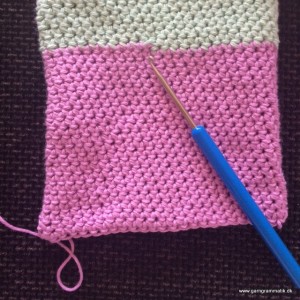 2. Fra den 13. maske hækler du de 25 fastmasker til slangens mund.
Der er nu 29 masker. Hækl 10 rækker lige op.
Tip! Sæt evt. en markør når du starter på dine 10 rækker. Jeg bruger en markør, som jeg ofte har ved hånden… eller ved håret, ret beset. Jeg bruger nemlig en hårnål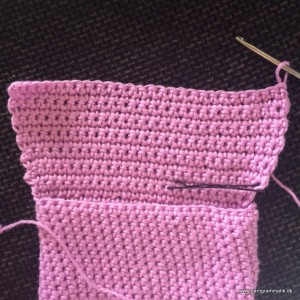 Tag derefter 1 maske ind i begyndelsen og slutningen af hver pind til der er 11 masker tilbage.
Jeg ville gerne have min slange lidt mere "rund" på munden, frem for firkantet, så jeg fortsatte indtil jeg kun havde 5 masker tilbage. Det er blot en smagssag, så gør hvad du føler for.
Gab
Gabet hækles som et selvstændigt stykke, der kommer til at se nogenlunde sådan her ud: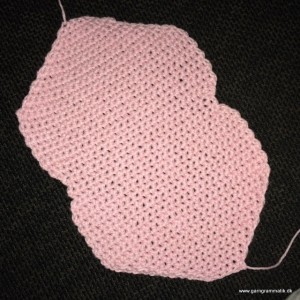 Her er det vigtigt, at du lige stopper op et øjeblik. For hvis du har gjort som jeg, så skal du ikke starte med 13 luftmasker, men derimod med færre luftmasker, for gabet skal jo passe ind i munden på slangen, sådan her: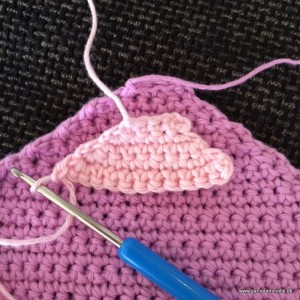 Personligt havde jeg lidt udfordringer med at få gabet til at passe ordentligt ind i munden, uden at munden ligesom krængede opad. Skulle jeg hækle slangen igen vil jeg derfor gøre gabet lidt mindre end selve munden.
Men, lad os nu tage udgangspunkt i den oprindelige opskrift. Så kan du altid eksperimentere senere

Hvis du har sluttet din slanges mund med 11 masker, så start med at slå 11 luftmasker op (vil jeg anbefale, frem for 13). Følg herefter retvrangs opskrift.
Tunge
Hækl. 30 lm, vend med 1 lm og hækl 1 fm i hver lm på rækken. Vend med 1 lm og hækl 20 fm. Derefter 10 nye lm til tungedeling. Vend med 1 lm., hækl 1 fm. i hver lm og de følgende fm. på rækken. Bryd garnet og hæft.
Jeg sluttede den sidste tunge-maske af med en kædemaske for at hæfte masken ordentligt i "kløften" mellem de to tungespidser.
Montering
Jeg fulgte retvrangs anbefaling og hæklede gab og mund sammen. Det gjorde jeg med samme farve som selve slangehovedet. Forinden sørgede jeg dog for at sy tungen på gabet og fylde slangen næsten helt op.
At hækle de to dele sammen gøres sådan her: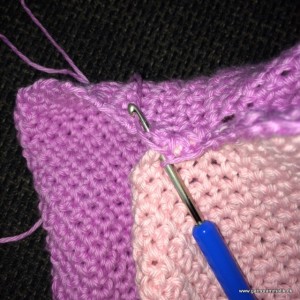 Inden jeg nåede hele vejen rundt, sørgede jeg for at skubbe fyld ind i mund og hovede. Altså på slangen….

Til allersidst syede jeg øjne på. Jeg valgte at købe plastic øjne i Stof og Stil, men du kan også sagtens følge retvrangs eksempel og hækle slangens øjne.
Var denne guide nyttig? Jeg bliver så glad for feedback

Måske vil du også kunne lide disse opskrifter: