Warning
: Use of undefined constant user_level - assumed 'user_level' (this will throw an Error in a future version of PHP) in
/var/www/garngrammatik.dk/public_html/wp-content/plugins/ultimate-google-analytics/ultimate_ga.php
on line
524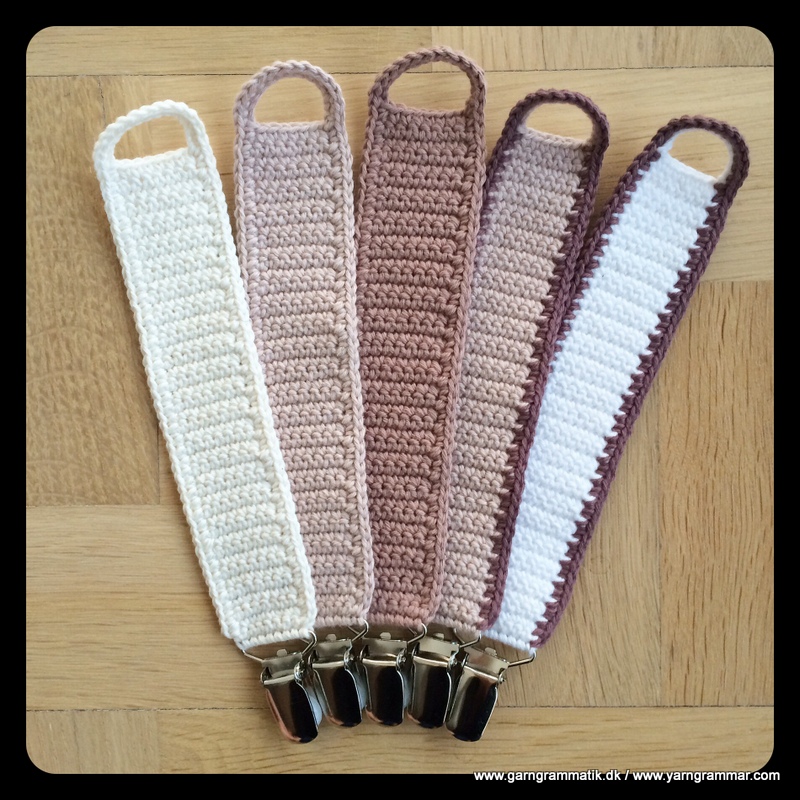 HVAD SKAL JEG KUNNE
Luftmaske (lm)
Fastmaske (fm)
Kædemaske (km)
Boblemaske (kun hvis du vil hækle suttesnoren med bobler)
HVAD SKAL JEG BRUGE
Hæklenål, str. 2 – men kan varieres afhængig af, hvor fast/fyldig din suttesnor skal være.
Bomuldsgarn.
Seleclips. Kan fx fås i Stof & Stil eller Stof2000. Men kan også købes i bunkevis på eBay, hvis nu der er utroligt mange bebser i omgangskredsen.
FORSLAG TIL MATERIALER
Clover Amour hæklenål str. 2.0
DROPS Paris bomuldsgarn
Seleclips fra eBay
OPSKRIFT
Der er copyright på dette design. Dvs. at opskriften KUN er til privat brug. Du har derfor hverken lov til at sælge opskriften, de ting du laver ud fra den, eller gengive ordlyden i opskriften, hverken helt eller delvist, uden mit forudgående samtykke. Du må derimod meget gerne vise dine kreationer frem på alle sociale medier, og gerne med en henvisning til Garn Grammatik. Læs mere om Garn Grammatiks Copyright.
Opskriften fandt jeg oprindeligt inspiration til hos Farmorfabrikken lige HER. Farmorfabrikken linker desuden videre til en anden variation af suttesnoren hos Grydelappen.dk, som også har lavet en rigtig fin foto DYI.
Jeg har valgt at lave en helt tredje version af suttesnoren. Min er således hæklet med en mindre nål, flere masker og en kant (samt bobler for de, der lyster). Ligeledes har jeg efter at have hæklet et solidt antal suttesnore, valgt at starte dem på en anden måde, end som foreslået hos hhv. Farmorfabrikken og Grydelappen.
Opskriften her nedenfor er derfor min egen, men jeg kan anbefale at aflægge et visit hos begge af ovenstående krea-blogge, så du får hæklet den snor, der falder bedst i din smag.
HUSK!! Pga. risiko for kvælning må en suttesnor aldrig være længere end 22 cm., inkl. clips og løkke.
Suttesnor med kant
Guiden her nedenfor er illustreret skridt for skridt med billeder.
1. Læg din seleclips med forsiden mod dig og stik din hæklenål igennem for at fange garnet.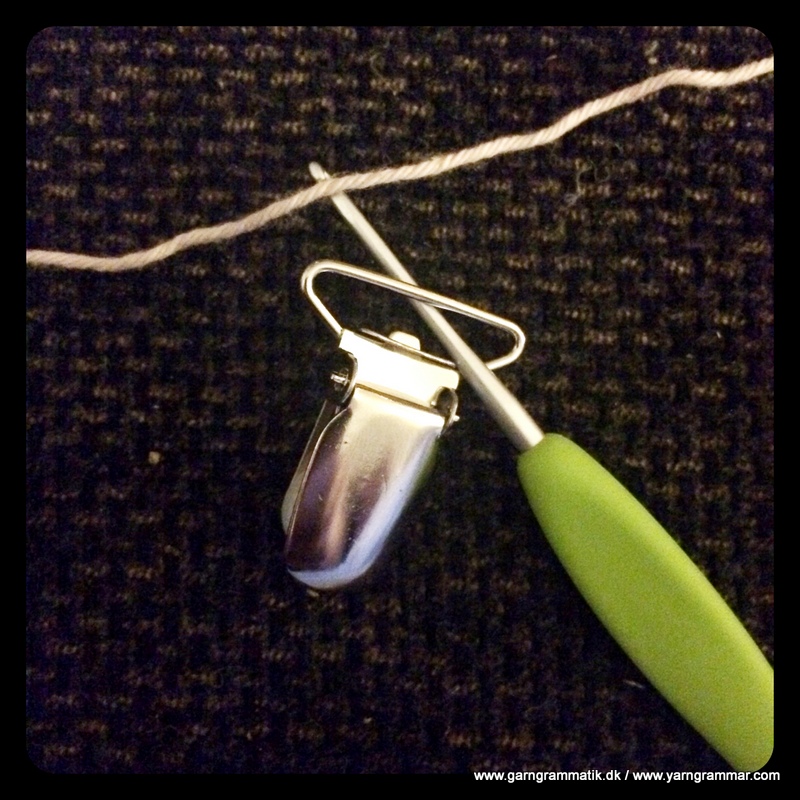 2. Træk garnet igennem seleclipsens åbning så det danner en lille løkke.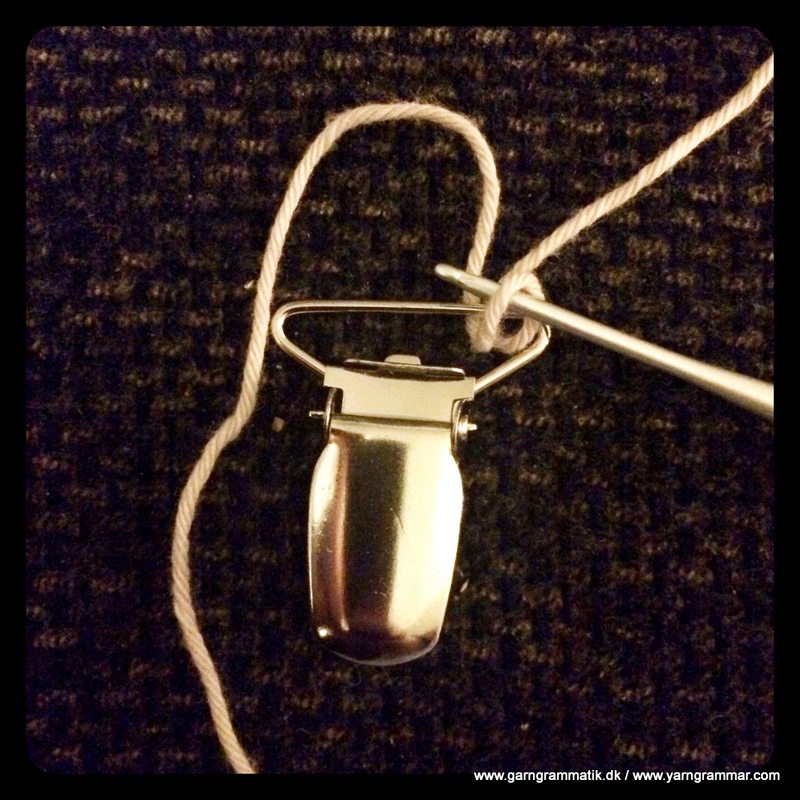 3. Slå garnet om nålen og træk igennem den løkke du lige har lavet.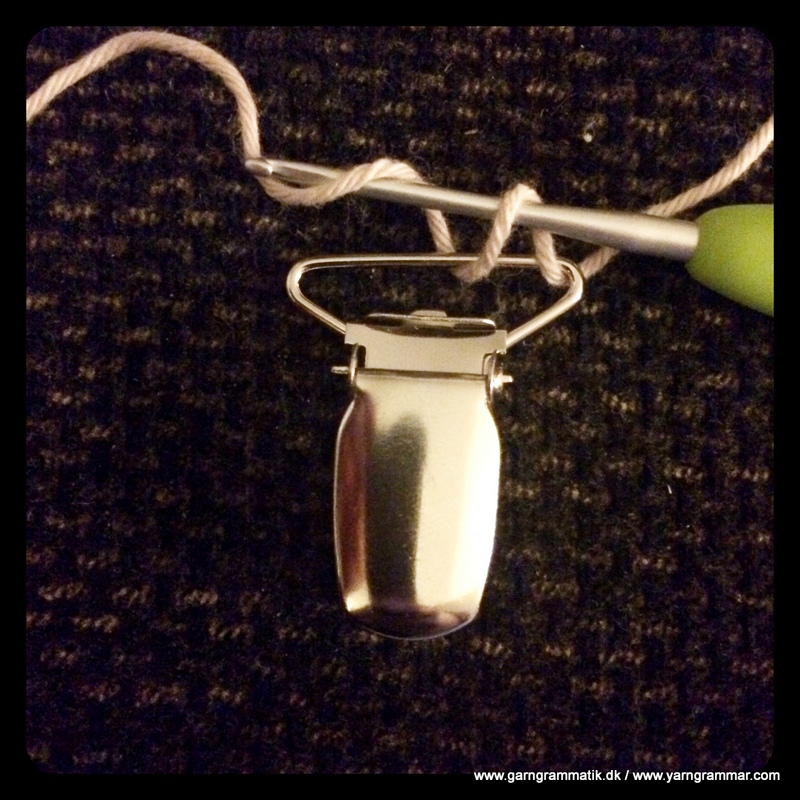 4. Du har nu dannet 1 fastmaske (fm).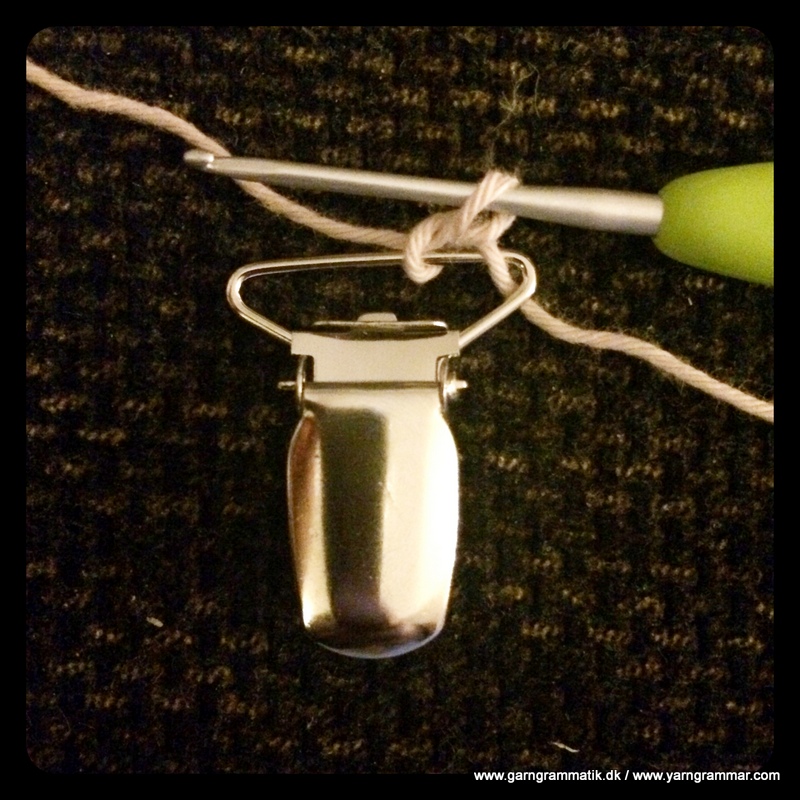 5. Hækl i alt 8 fm hen langs clipsen og afslut med 1 luftmaske (lm), som du bruger til at vende på. Vend herefter arbejdet (så du har bagsiden af seleclipsen vendt ind mod dig), og hækl 8 fm hen langs rækken (dvs. 1 fm i hver fm fra sidste række). Afslut med 1 lm og vend. Fortsæt på samme måde indtil din suttesnor måler ca. 19 cm. inkl. seleclips. For mig tilsvarede det 44 rækker.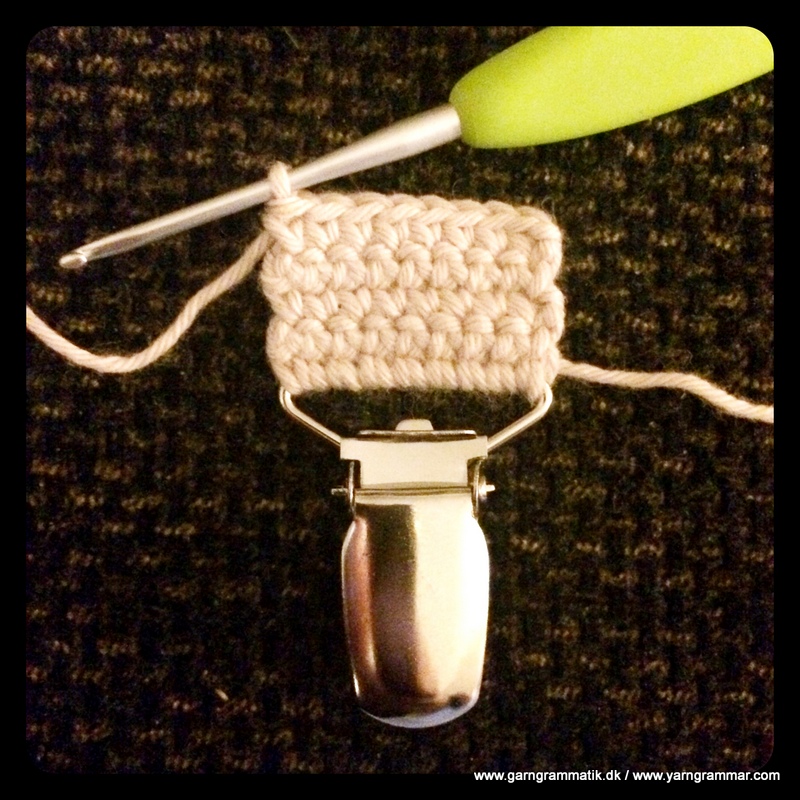 6. Din sidste række skal være på retsiden, dvs. at du skal have seleclipsens forside vendt mod dig. Hækl nu 15 lm.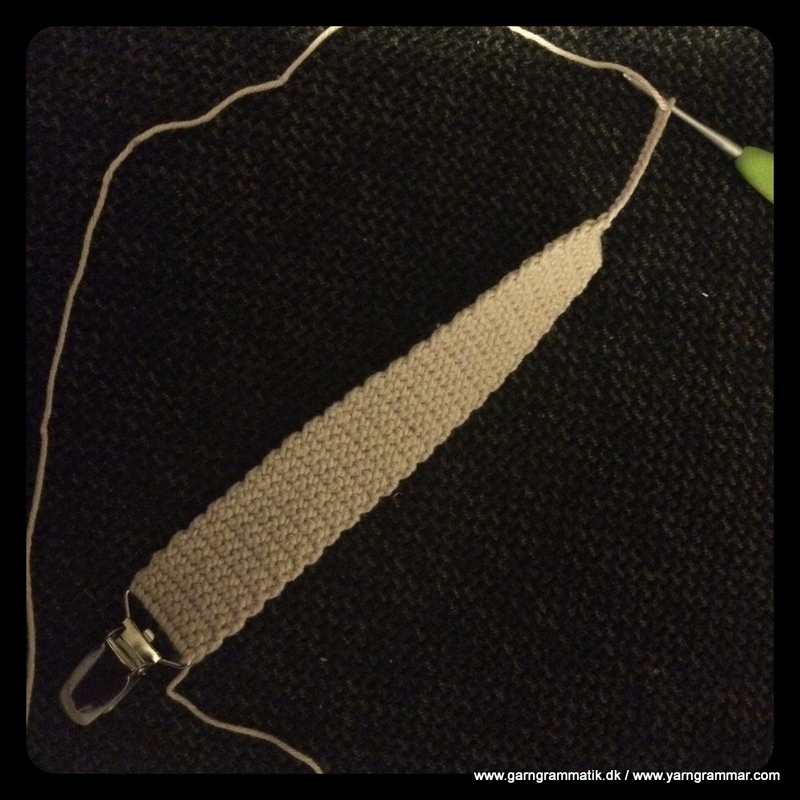 7. Vend arbejdet om, så du er på vrangsiden. Stik nu nålen (stadig med de 15 lm siddende på) ind i hjørnemasken på den modsatte side af suttesnoren og hækl 1 kædemaske (km). Dvs. træk garnet igennem først suttesnoren og siden den sidste af de 15 lm. Sørge for at din lm- snor ikke bliver snoet her! Klip garnet og efterlad en ca. 15 cm lang garnende til at hæfte ende med.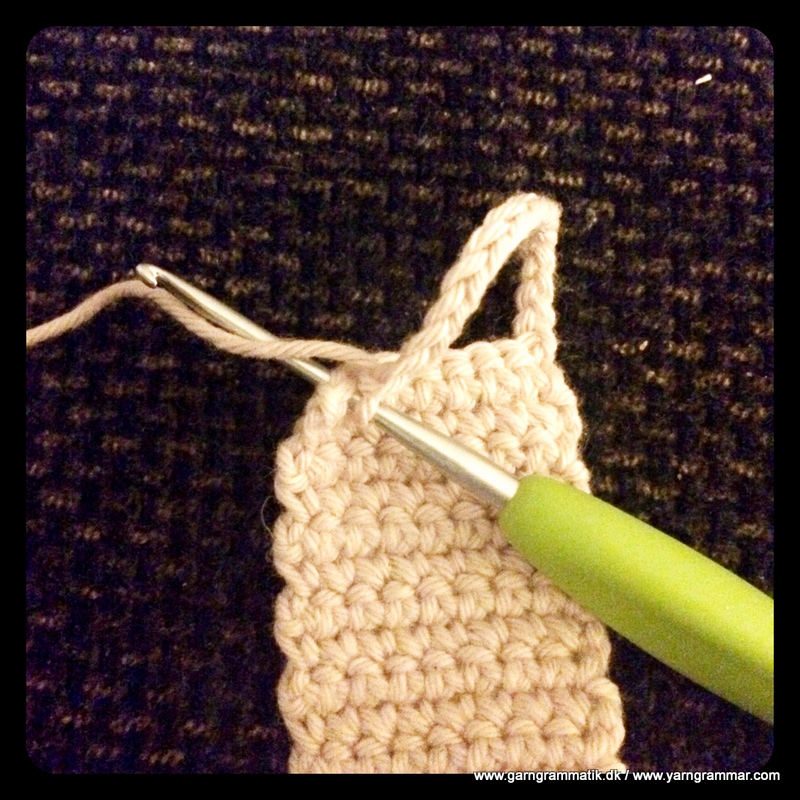 8. Hæft ender ved at tråde garnenden på en nål og sy den ind på bagsiden af det hæklede arbejde. Hvis du vil sikre den ekstra godt, kan du sy den begge veje i arbejdet. Klip til sidst garnenden af helt inde ved suttesnoren.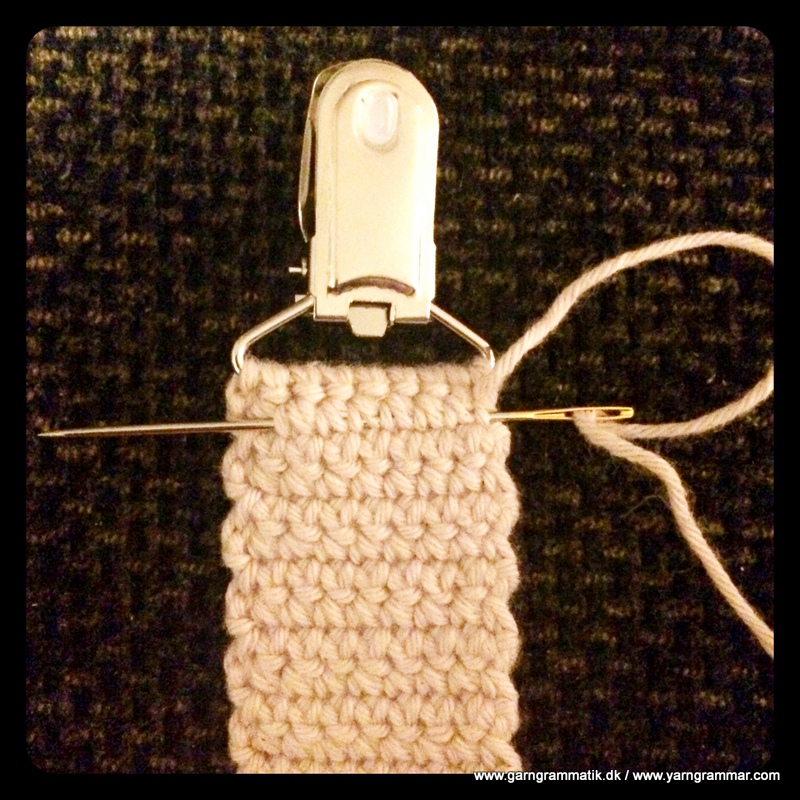 9. Hækl nu en kant på suttesnoren ved at stikke din hæklenål ind i den første maske tættest på seleclipsen og træk en løkke igennem snoren, på retsiden af arbejdet og afslut den som 1 fm ved at slå garnet om nålen og trække gennem den løkke du lige har lavet.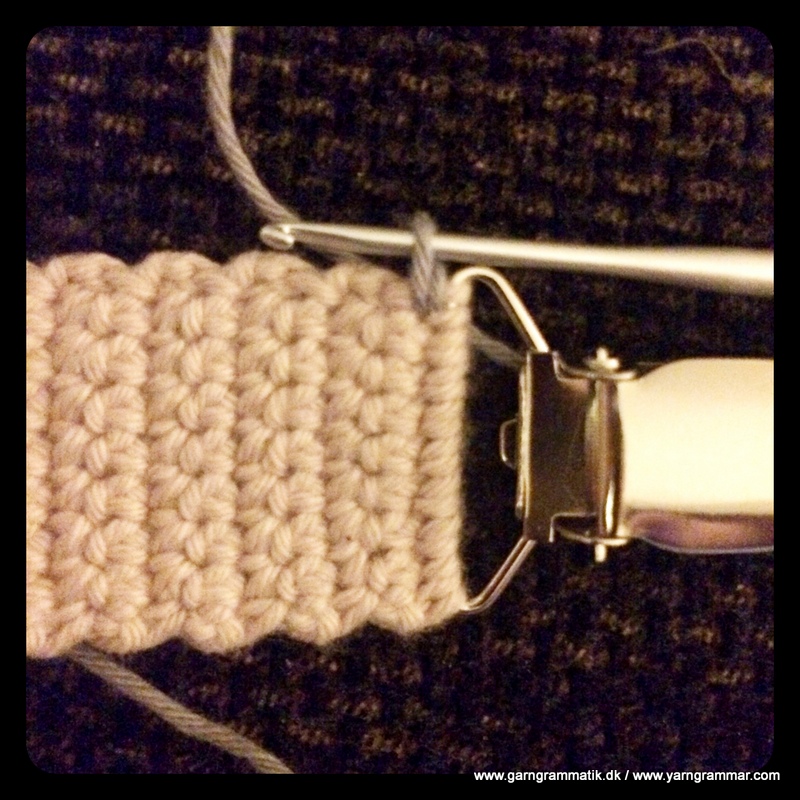 10. Hækl 1 fm i alle "naturlige" huller, som der er langs suttesnorens side. Hvis du ser på suttesnoren ser det ud som om, der sidder rækker 20 og 2 sammen. Hvis du ser det sådan, så kan du hækle kanten med 1 fm i midten af 2 rækker og 1 fm imellem hver af de 2 rækker sammen.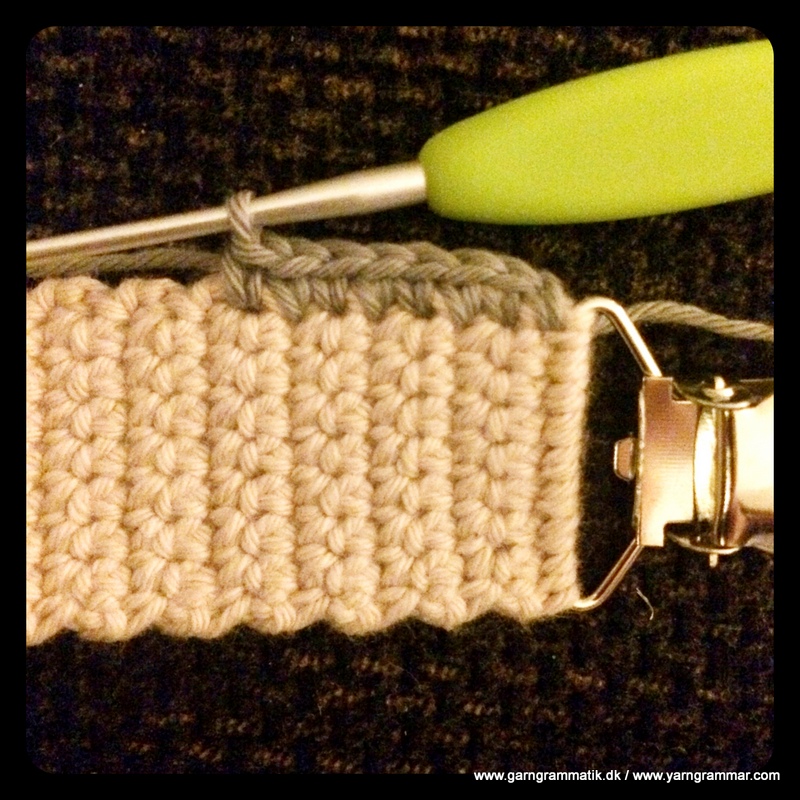 11. Når du når til din sutteløkke skal du hækle 1 fm i hver lm hele vejen rundt langs lm-snoren.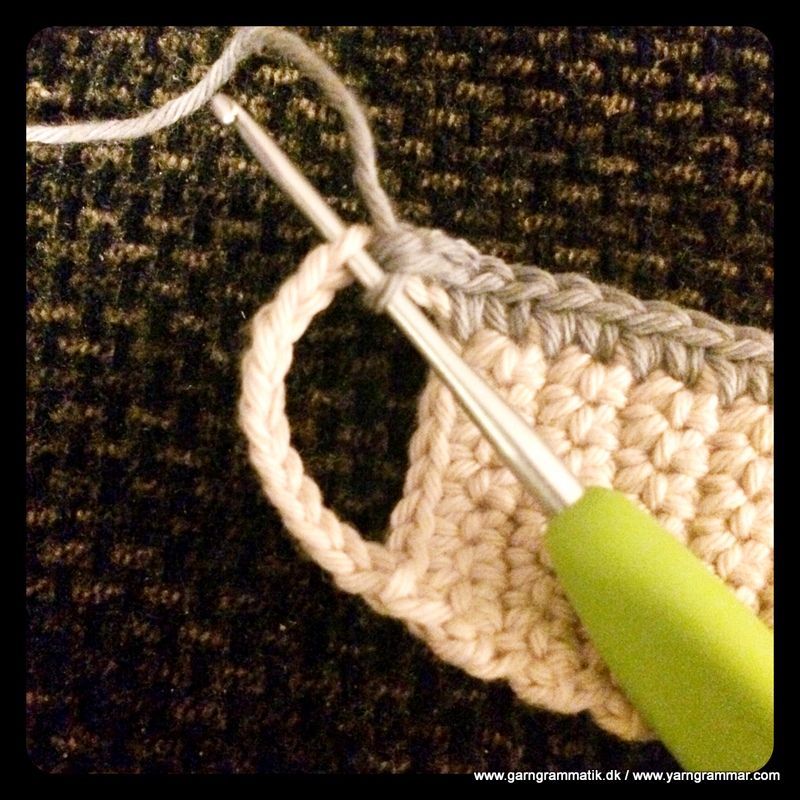 12. Færdig!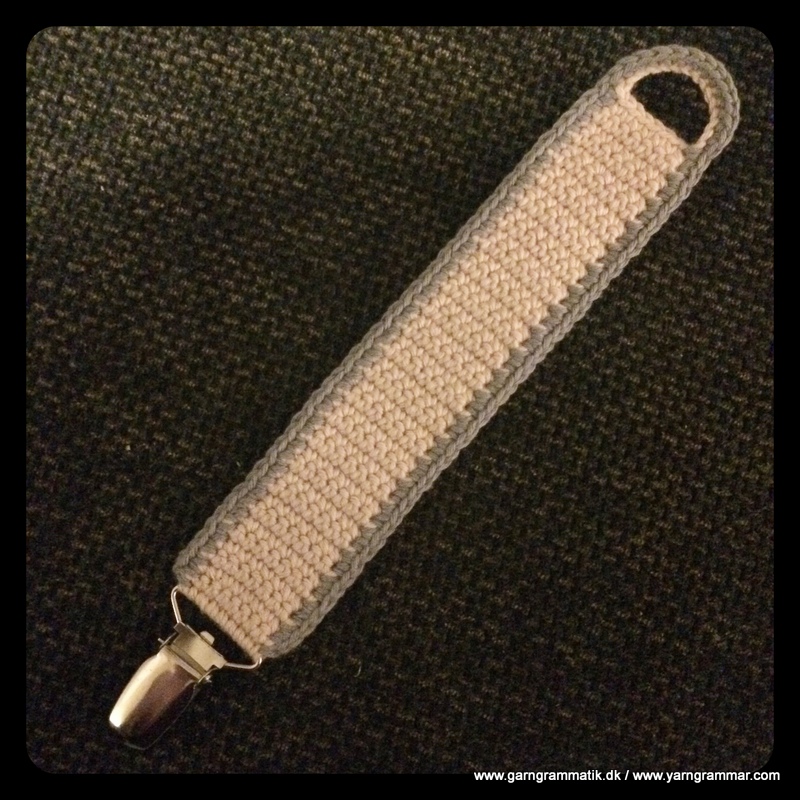 Suttesnor med boblemasker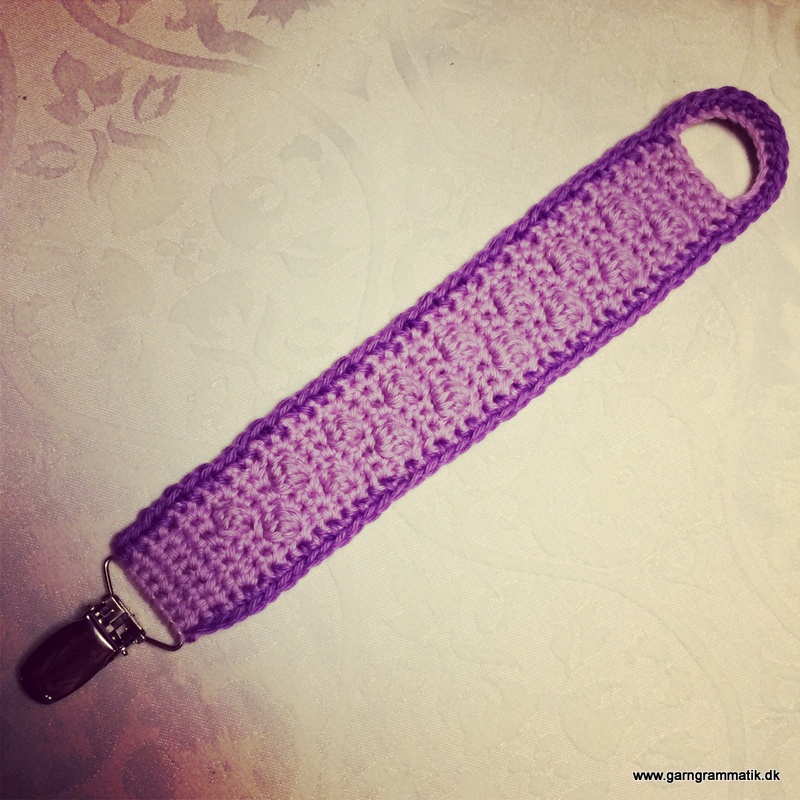 1. Følg ovenstående DIY for at slå masker op på din clips.
2. Hækl et par rækker med fastmasker.
3. Når du synes du er klar til lidt mønster hækler du nu på bagsiden af snoren en boblemaske i 3. maske. Hækl de sidste 5 masker som alm. fastmasker.
4. Hækl en hel række med fastmasker.
5. Hækl 5 fastmasker, en boblemaske i 6. maske på bagsiden af snoren og 2 fastmasker.
6. Fortsæt med pkt. 3-5 til snoren har den ønskede længde.
7. Afslut med at hækle en løkke til sutten, som beskrevet i ovenstående DIY.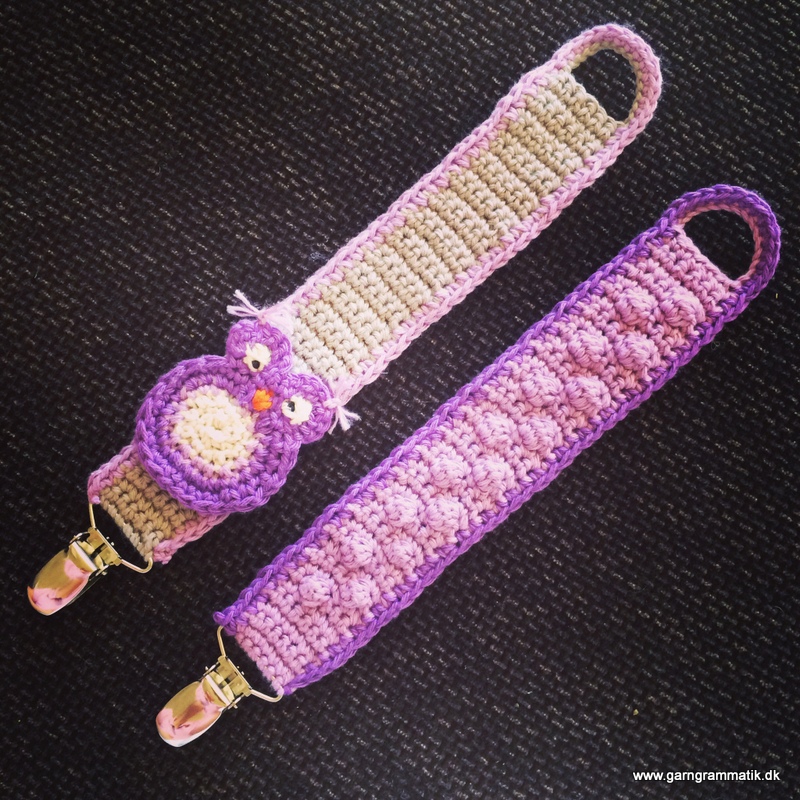 TIP!
En bekendt anbefalede mig i øvrigt at hækle to suttesnore, uden kant, for derefter at hækle dem sammen med én kant. Formålet er, at snoren så ikke kan trækkes til dobbelt længde af en pilfingret baby. Smart, smart! Tak til Rikke for tippet!
Måske vil du også kunne lide disse opskrifter: