Warning
: Use of undefined constant user_level - assumed 'user_level' (this will throw an Error in a future version of PHP) in
/var/www/garngrammatik.dk/public_html/wp-content/plugins/ultimate-google-analytics/ultimate_ga.php
on line
524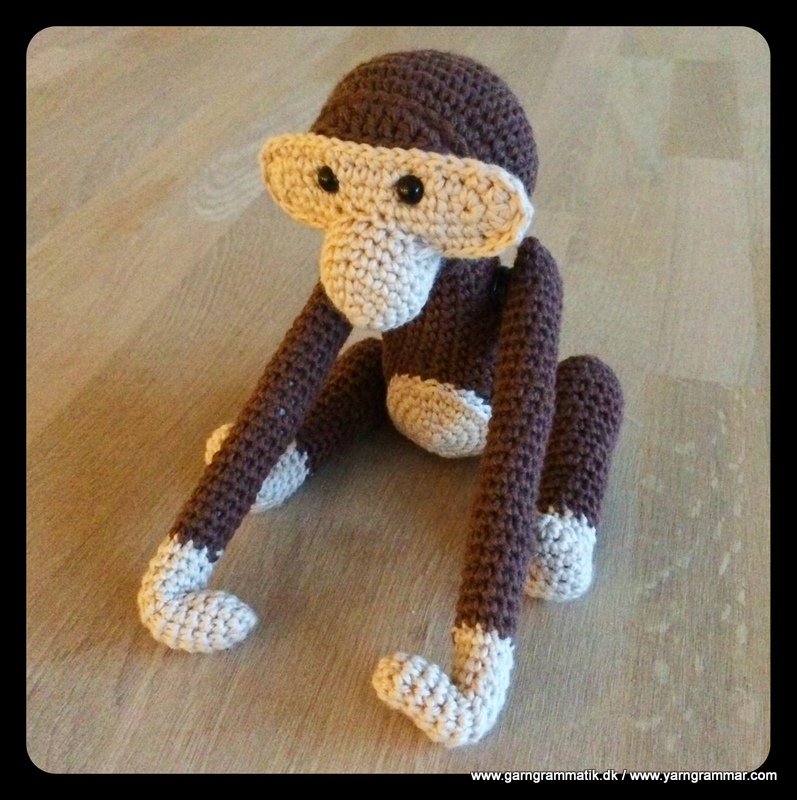 Måske har du fulgt med i pressen, i hele debatten om de hæklede dyr fra Kay Bojesen? I lange tider har det været okay at hækle opskriften til privat brug, men det har været forbudt at vise billeder af de hæklede fugle og den hæklede abe, da det var et brud på opretshavsloven.
Det er slut nu! Rosendahl, som er forhandler af dyrene, har nu besluttet, at det er okay at dele opskriften og vise billeder frem af de hæklede dyr.
DET ER DOG UNDER INGEN OMSTÆNDIGHEDER TILLADT AT SÆLGE OPSKRIFTEN ELLER DESIGNS LAVET FRA OPSKRIFTEN!!
Rosendahl opfordrer til, at man bruger hashtagget #mitkaybojesen, hvis man poster billeder på Instagram. Så – opfordring hermed givet videre!
HVAD SKAL JEG KUNNE
Magisk ring (mr)
Luftmaske (lm)
Fastmaske (fm)
Halvstangmaske (hstm)
Stangmaske (stm)
HVAD SKAL JEG BRUGE
Bomuldsgarn i lysbrun/beige og mørkbrun. Jeg brugte nogle rester jeg havde liggende fra Stof og Stil.
Hæklenål str. 2.5
Sikkerhedsøjne str. 6 mm (mine er købt på eBay)
Fyld
Tyk ståltråd, fx.elefantståltråd, som kan købes i blomsterforretninger eller Panduro Hobby.
Trykknapper eller lædersnørre til at fæstne arme og ben.
Knibtang.
FORSLAG TIL MATERIALER
Fx. DROPS Safran – beige, men et hvilket som helt beige bomuldsgarn kan bruges.
Fx. DROPS Safran – brun, men et hvilket som helt brunt bomuldsgarn kan bruges.
Clover Amour hæklenål str. 2.5
Bamsefyld
Elefanttråd fra Panduro Hobby
Trykknapper fra Stof og Stil
OPSKRIFT
Lærke fra bloggen Kreaposen har designet opskriften, og den er SÅ fin og nem at følge – TAK, Lærke! Du finder opskriften lige HER.
Der var dog et par steder undervejs, hvor jeg tænkte, at man måske som nybegynder ville tøve lidt, eller kunne gå lidt i stå. De steder har jeg valgt at uddybe her nedenfor. Du skal dog over at besøge Lærke for at få opskriften i sin helhed. Min side her er blot et supplement til knapt så garvede hæklere.
Hovede
1. Når der fra 3. omgang står *1 fm, 2 fm i næste m* (18), så betyder stjernene (*) at du skal gentage dette stykke (altså 1 fm, 2 fm i næste m) hele vejen rundt.
2. Når du skal til at hækle de to hovedestykker sammen, skal du lige have tungen lige i munden. Først og fremmest starter du, som Lærke beskriver med at hækle de to stykker sammen med km. Sørg for, at den runde del af hovedet har den pæne side udad.
3. Herefter skal du være opmærksom på, at du kun hækler de 1 km, 2 fm, 1 hstgm, 4 stgm, 1 hstgm, 2 fm, 1 km i maskerne fra det flade hovedestykke.
Sammenhækling af hovedestykkerne med kædemasker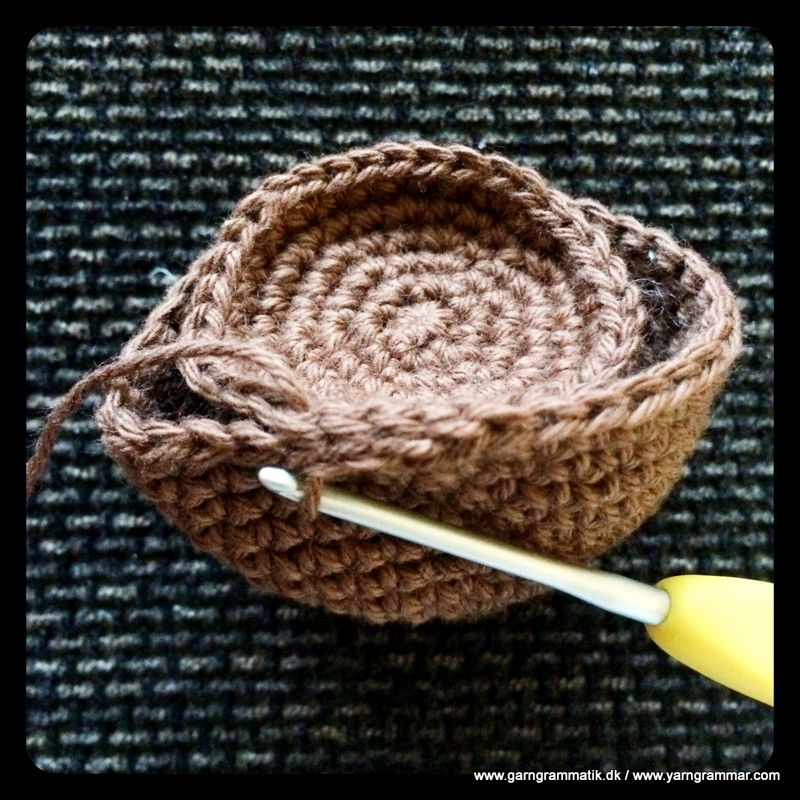 Hækling i maskerne fra det flade hovedestykke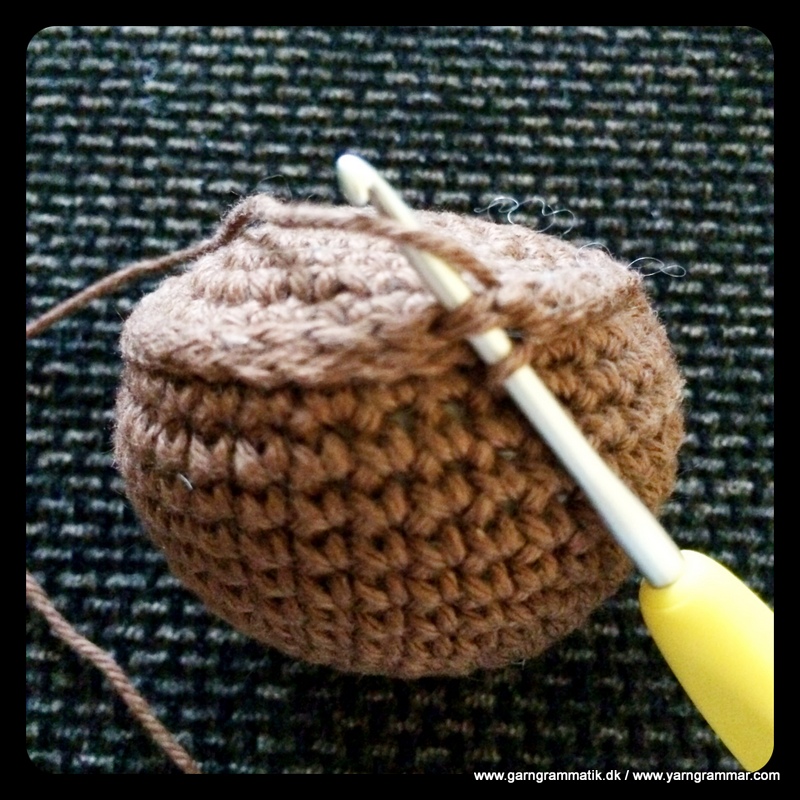 Det færdige hovede, før påsyning af øjenstykke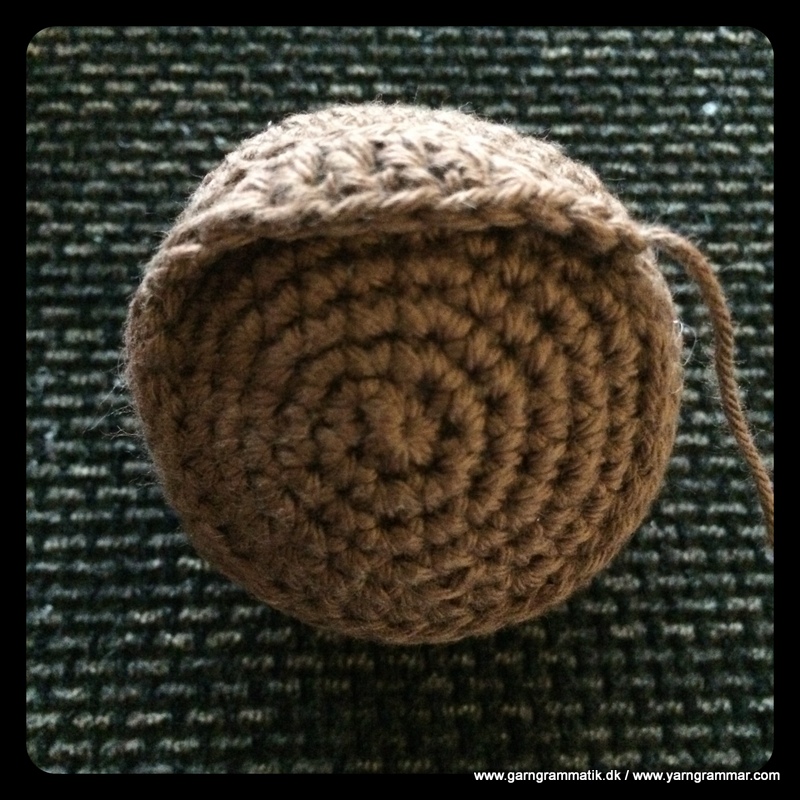 Øjenstykke
1. Når der står, at du skal vende og hækle tilbage af de samme masker, menes der, at du hækler rundt om det hæklede stykke, så du hækler i den modsatte løkke af de oprindelige 14 lm.
2. Når du ender med 33 m er det fordi du tæller masker hele vejen rundt om din lille 'pølse' – og ikke kun på øverste række.
3. Det første øjenstykke skal afsluttes med 1 km, det gøres i 1. maske, efter din hstm.
4. Når du er færdig med begge stykker, står der i opskriften, at de skal hækles sammen med km. Jeg valgte nu at hækle dem sammen med fm, da jeg synes det gav et pænere resultat, så det er også en mulighed.
Hækl rundt om lm-snoren således: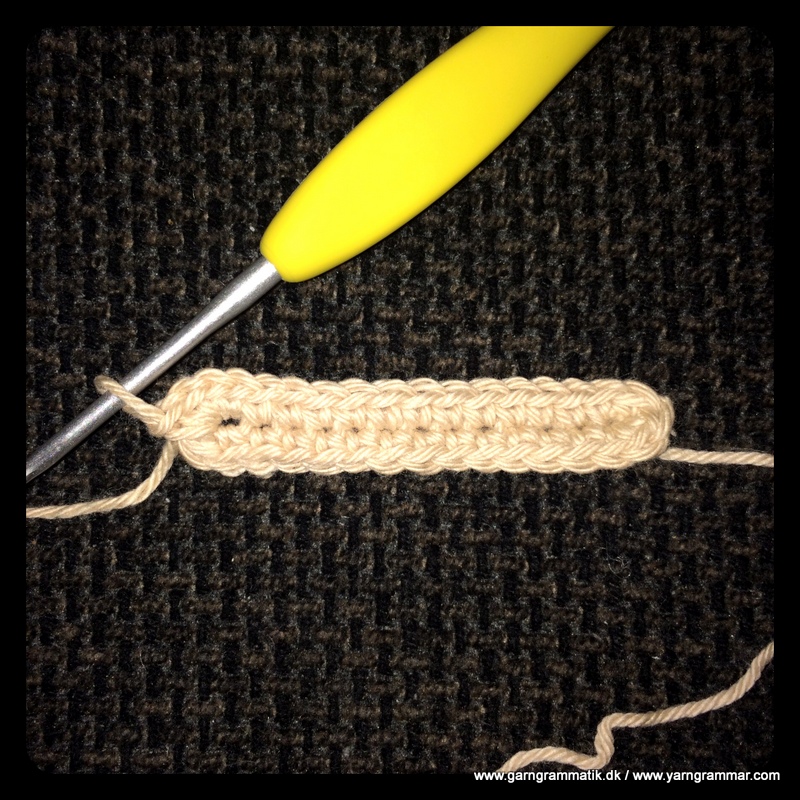 Sammenhækling af de to øjenstykkerne: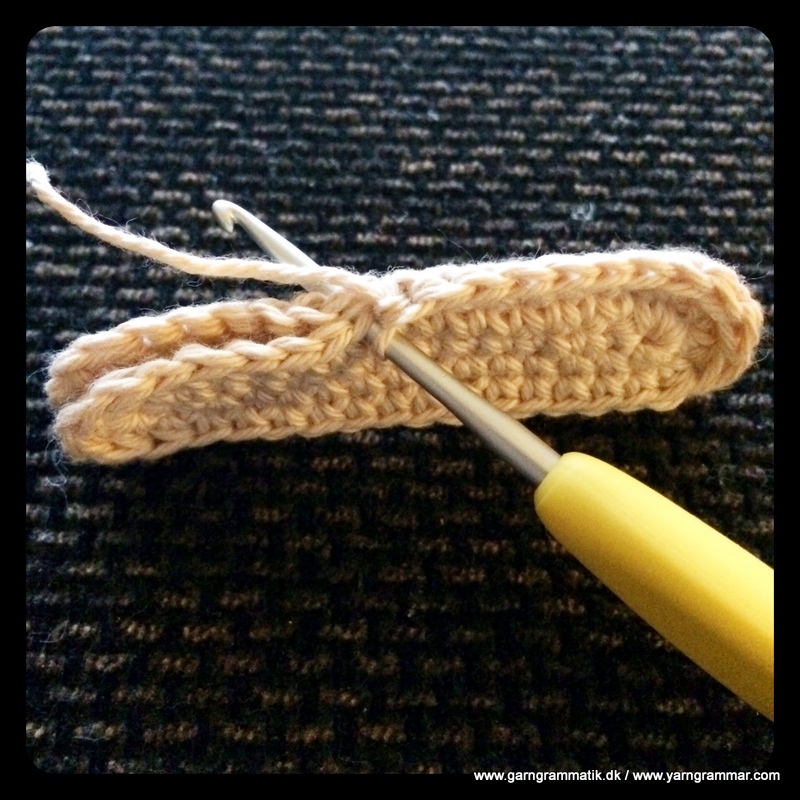 Påsyning af øjenstykke på hovedestykke
1. Inden du går i gang med at sy, så sørg for, at du får øjnene sat fast på din abe. Jeg har valgt at bruge sikkerhedsøjne, men selv hvis du hækler øjnene, så vil det være nemmere at få dem på, inden du syr øjenstykket fast!
2. Når du syr det ovale øjenstykke på, så vær opmærksom på, at du kun syr i de bagerste masker. Således vil din syning blive skjult.
3. Sy herefter ned langs bagsiden på siden af øjenstykket, sy igen i de bagerste beige/lysebrune masker og afslut med at sy op langs bagsiden af den anden side.
Syning i de bagerste masker, så syningen er skjult: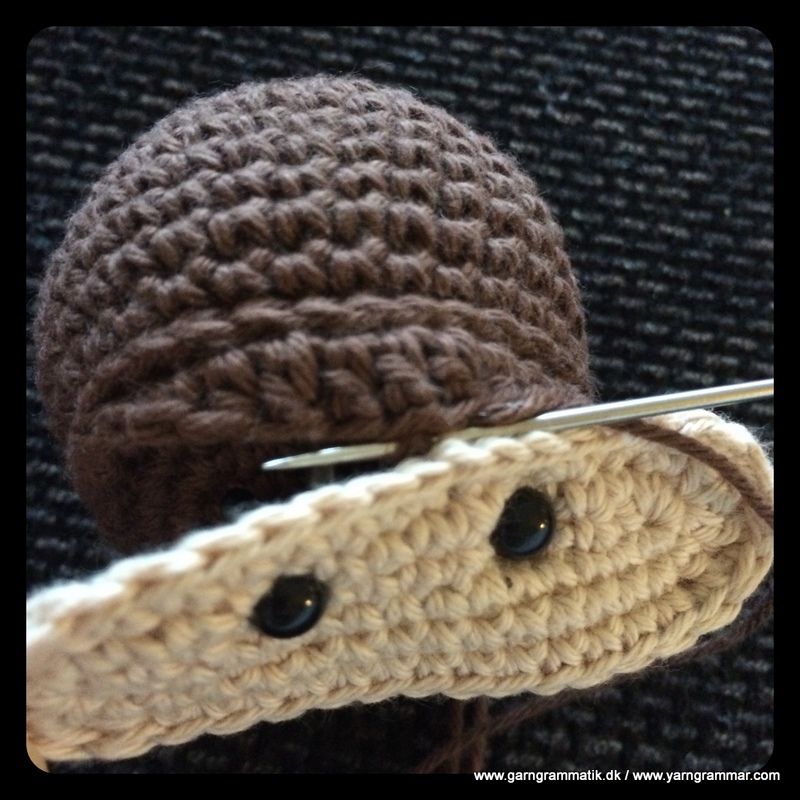 Det færdige hovede med øjenstykke: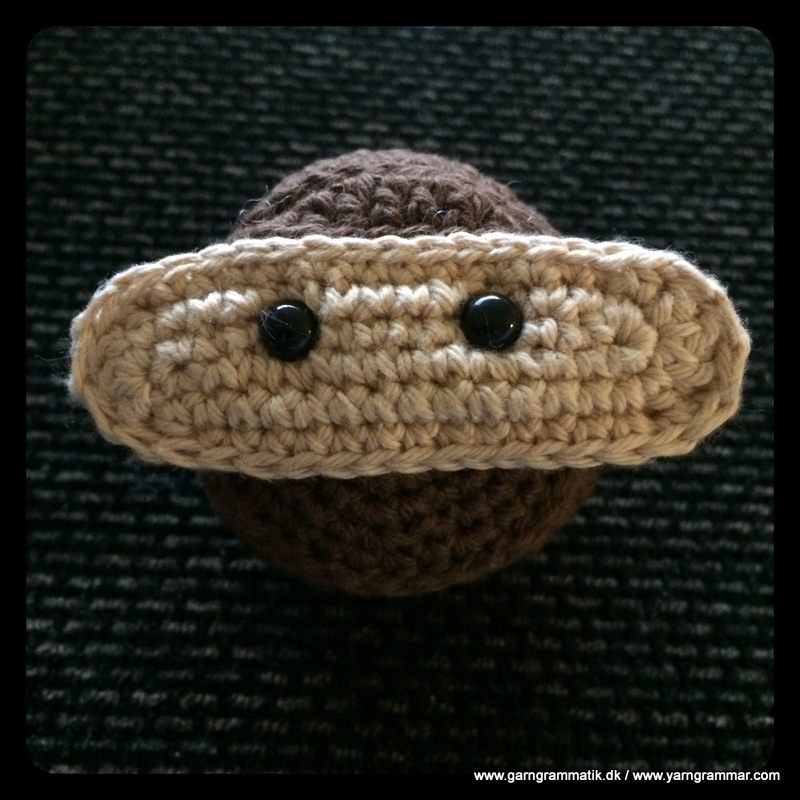 Snude
1. Snuden bliver pænest syet på, efter min mening, hvis du syr i begge snudens maskelænker.
Det færdige hovede med øjenstykke og snude: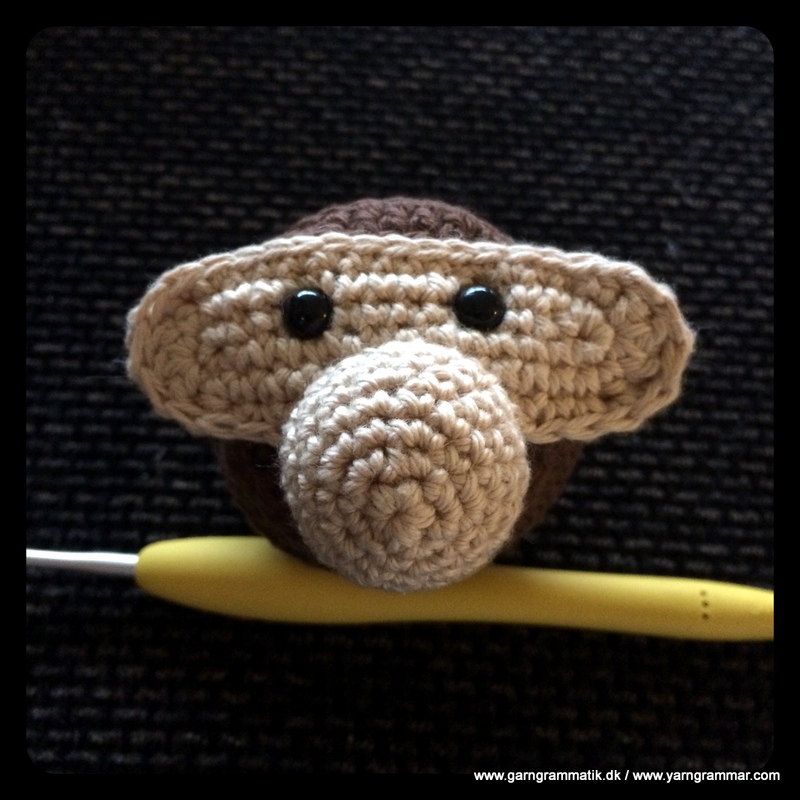 Krop
Hovedet kan monteres med en trykknap. Men, jeg prøvede, og jeg syntes at det var lidt for tungt, så det kom ikke til at sidde lige og stabilt nok, efter min mening. Jeg valgte derfor at sy hovedet på. Det betyder så, at hovedet ikke kan dreje, men til gengæld sidder det pænt. Det er en afvejning du selv må gøre dig…
Mave
Intet at bemærke.
Arme
1. Når du slår op til din magiske ring, får du altid en garnende, som hænger ud fra vrangsiden af arbejdet. Denne garnende skal du bruge når du er færdig med armen, til at sy ståltråden/elefanttråden fast i bunden af hånden.
2. Da garnenden hænger ud på vrangsiden af arbejdet, skal du, efter at du har hæklet et par omgange, tråde garnenden og stikke den igennem ringen, så den kommer ud at hænge på retsiden.
3. Vend ved samme lejlighed arbejdet, så din retside (den pæneste side) kommer til at vende ud mod dig. Det vil nemlig være vanskeligt for dig at vende arbejdet på vrangen senere, da armen er så tynd.
4. Når armen er færdig, bøjer du et stykke elefanttråd på midten og stikker godt ned i armen, så den buede ende når ned til bunden. Bagefter skal armene fyldes.
5. Indrømmet – fyldning af armene, DET er altså et værre pillearbejde. Der findes en anden abeopskrift, hvor man (af samme årsag) syr hånd og arm sammen bagefter, men jeg synes altså, at det giver et langt pænere resultat, når man følger Lærkes opskrift, så det ér arbejdet værd. Jeg brugte en spisepind og en masse tålmodighed, mens jeg stak fyldet ned. Et godt tip er at rulle armen mellem hænderne undervejs, så fyldet fordeler sig pænt, og ikke ligger i klumpede pølser. Vær desuden opmærksom på, at du ikke får overfyldt armen, så maskerne gaber.
6. Sy ståltråden fast i hånden med den beige garnende.
6. Når du til sidst skal sy armene sammen foroven, så sørg for, at elefanttråden er klippet så tilpas langt nede, at den ikke stikker ud gennem maskerne bagefter.
7. Jeg valgte at sætte armene (og benene) fast med trykknapper, da det er en usynlig løsning og de så kan dreje nemt rundt. Hvis du vælger det samme, så brug garnenden til at sy den ene del af tryklåsen fast med det samme.
Således skal du stikke garnenden igennem ringen, så den kommer til at hænge ud på retsiden, i stedet for på vrangsiden: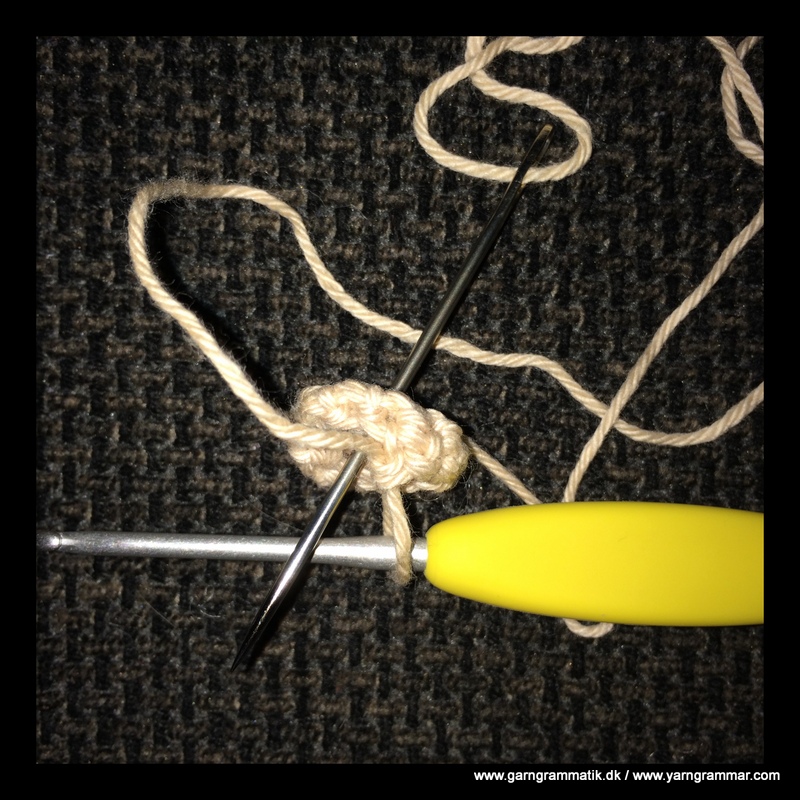 Således skal hånden se ud, når du har retsiden vendt mod dig, og garnenden hængende ud: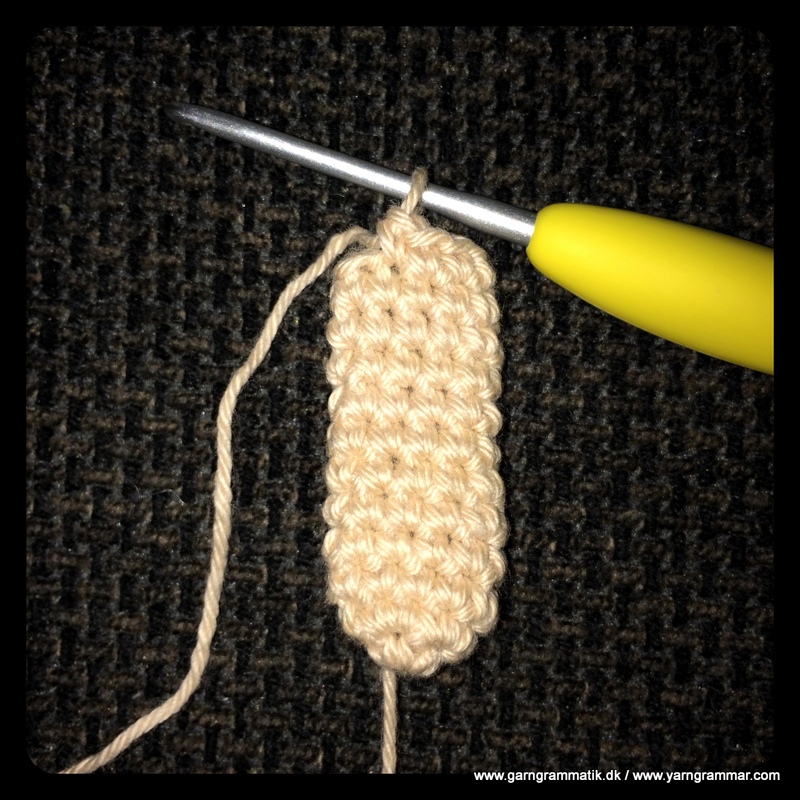 Således ser armene ud, når de er færdighæklede og elefanttråden er stukket ned i: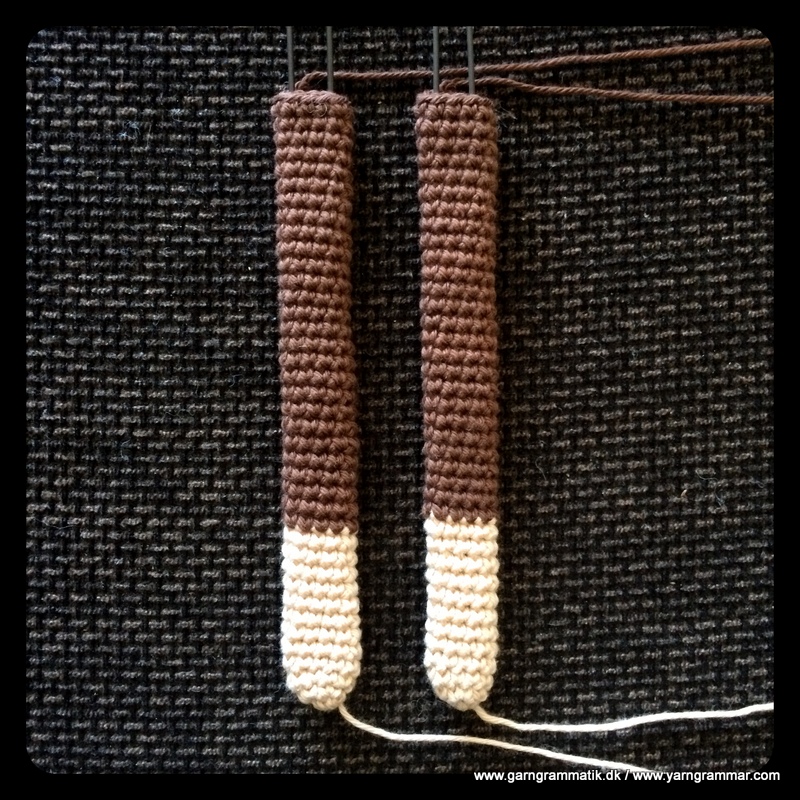 Ja, så kaotisk ser det også ud hos mig, når jeg fylder armene: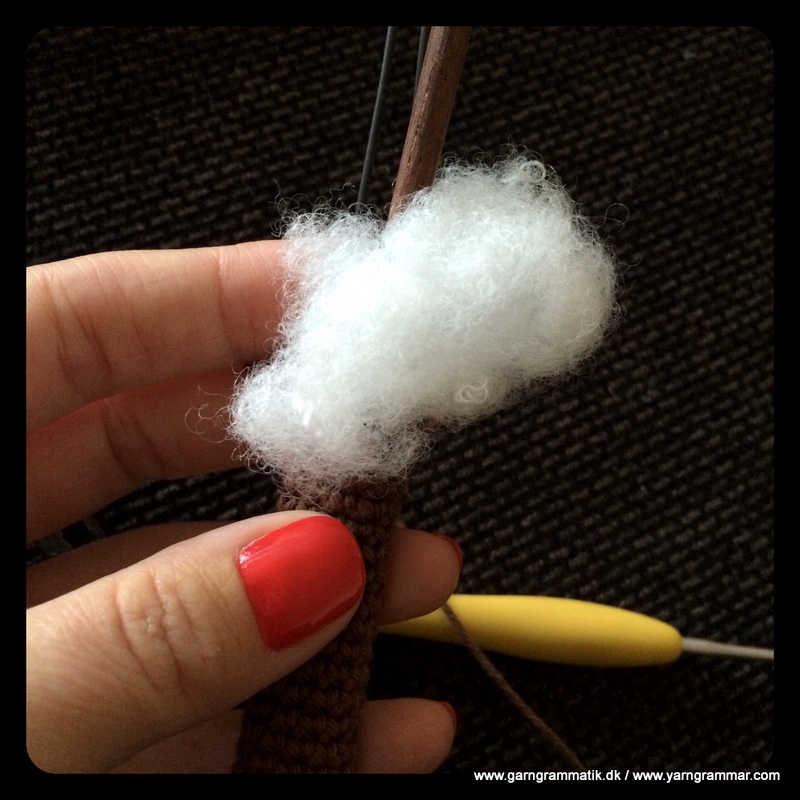 Således ser armene ud, når de er helt færdige: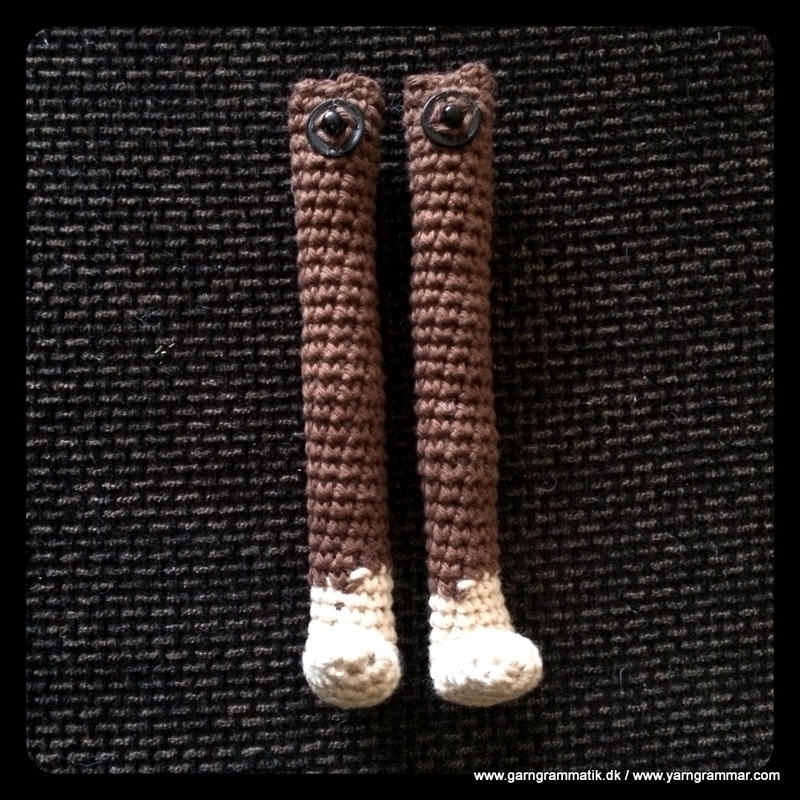 Ben
1. Vær opmærksom på, at du med benet IKKE skal klippe garnet, når du putter elefanttråden i. Du skal nemlig lige hækle en runde mere, når du har fyldt benet med elefanttråd og fyldevat.
2. Hvis du klipper din elefanttråd præcis over på midten med knibtangen, så passer det med, at et halvt stykke passer til ét ben. Du skal højst lige bide lidt af spidserne med knibtangen.
3. Klip trådenden til sidst, men lad den være så lang at den både kan bruges til at sy hullet på benet helt til, samt at sy trykknappen på, hvis du bruger trykknapper.
Montering
1. Sy tryklåsene fast på kroppen, der hvor arme og ben skal sidde. Du kan med fordel bruge samme tråd til begge knapper. Dette gøres ved at stikke nålen ind gennem abekroppen og sy den anden trykknap på. Ved benene vil jeg anbefale, at du hiver en smule ekstra i tråden, når du syr trykknapperne på. På den måde kommer de en lille smule "ind" i kroppen, og giver et look, der er tæt på den originale træabe.
2. Sy maven på kroppen med den beige garnende du lod hænge fra maven. Jeg synes det bliver pænest, hvis du kun syr i bagerste maskeled.
3. Tryk arme og ben på kroppen.
Nu er du næsten færdig – aben skal bare samles: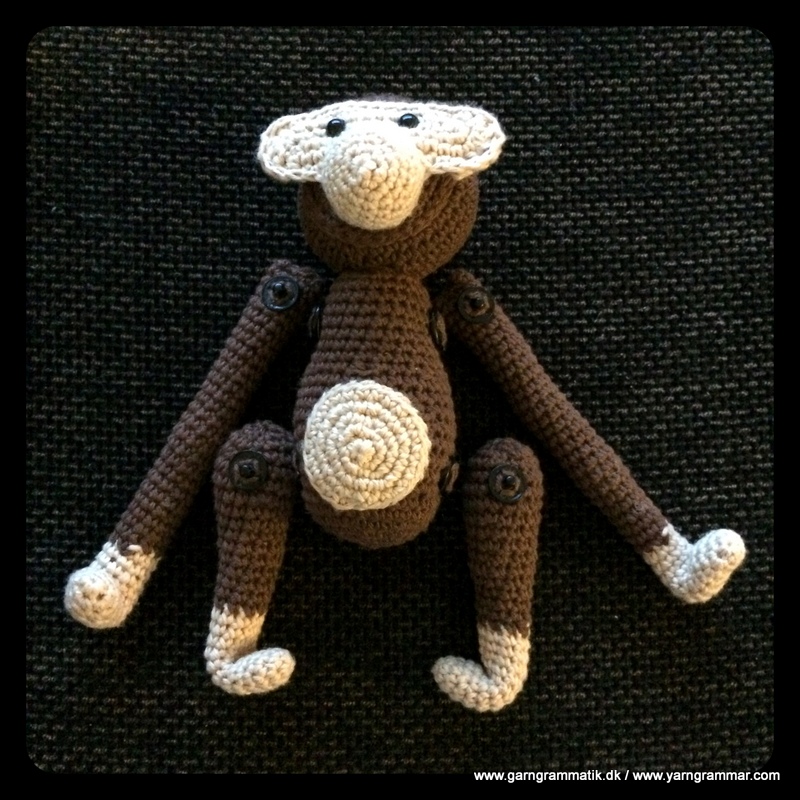 Din abe er nu færdig – tillykke!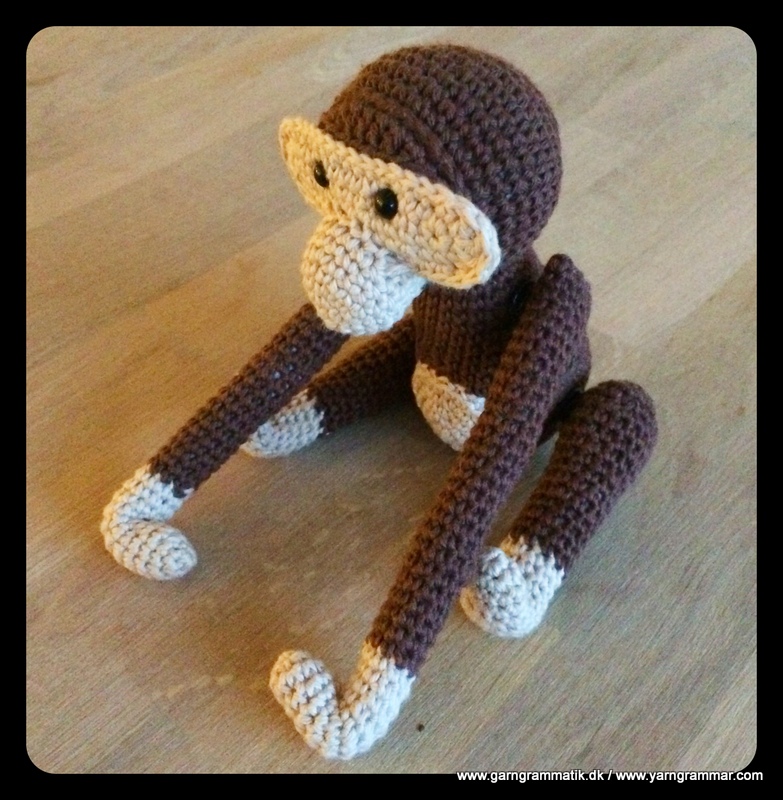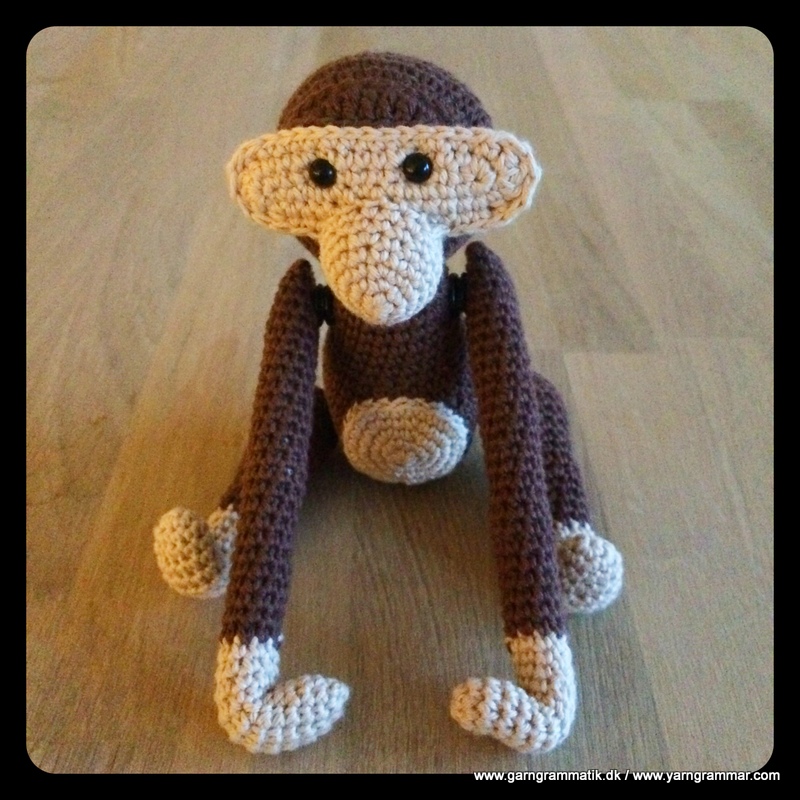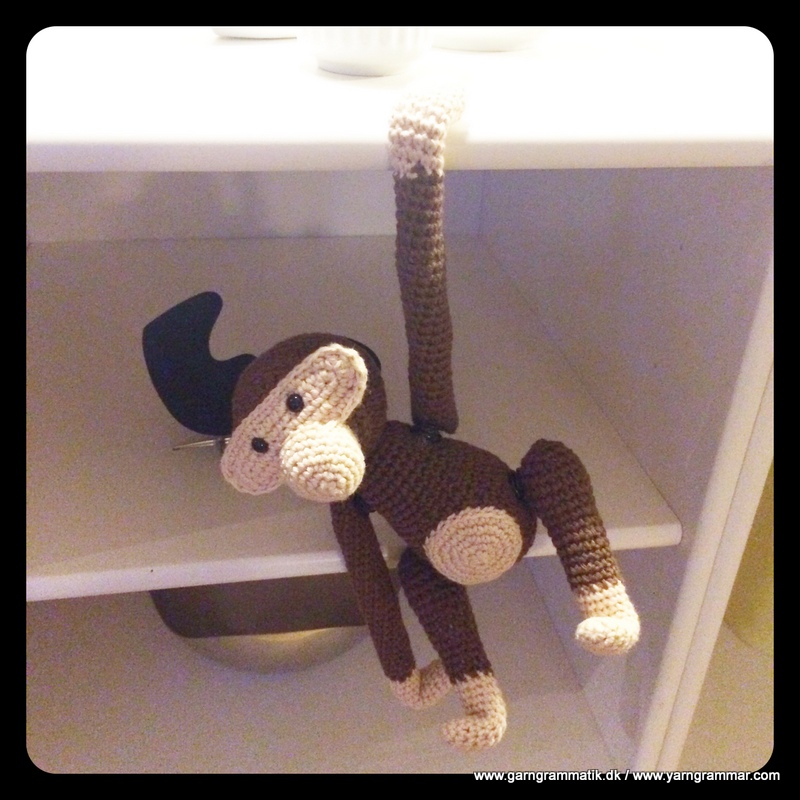 Der er copyright på dette design. Læs mere om Garn Grammatiks Copyright.
Siden indeholder affiliatelinks. Læs mere om Garn Grammatiks Reklamepolitik.